Project name:
SeaArt – Long term establishment of SEAgrass ecosystems through biodegradable ARTificial meadows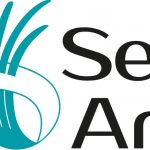 Project description:
The project "SeaArt" explores the advancement of the long-term establishment of natural seagrass ecosystems under the protection of marine biodegradable artificial meadows.
Seagrass meadows are important ecosystems of the seas, offering coastal protection against erosion and providing breeding grounds for many marine organisms. However, they are simultaneously seriously endangered and threatened by decline. The re-establishment of seagrass is problematic, as without established areas of seagrass, hydrodynamic energy and turbidity increase, which in turn prevents seagrass growth.
The task of the IfBB is the development of materials, which are suitable for the production of an artificial seagrass adopting the ecosystem service of natural seagrass. Both biodegradable plastics and natural materials (e.g. plant fibres), or combinations of both, are characterised with respect to their suitability in terms of degradation, technical and mechanical properties and applicable production methods. A key property for all materials used for the ASG is biodegradation under marine conditions, which is currently unknown for most commercially available biodegradable materials (either natural or bioplastic). Respirometric measurements in bottles as well as in mesocosms are being carried out to estimate the biodegradation behaviour of the different materials in a comparative study. The degradation experiments will also consider the chemical composition of residues and potential environmental impacts of intermediate stages of disintegration. This assessment will ensure that utilised materials will not be harmful to marine life at any stage of the ASG life cycle.
"SeaArt" is a joint project together with the Leibniz University Hannover under the direction of the Institute for Geoecology of the Technical University of Braunschweig and is funded by the Lower Saxony Ministry of Science and Culture within the framework of the Volkswagen Foundation "Niedersächsiches Vorab" funding initiative.